User Interface in Two Words
cirQWizard, as its name suggests, takes a "wizard" approach to user interface. It leads you step by step through all of the processes necessary to produce a circuit board.
Breadcrumb bar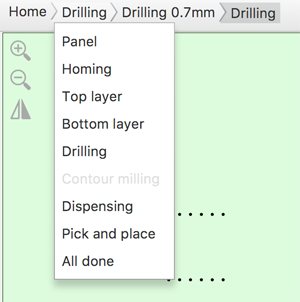 The main navigational aid is the breadcrumb bar in the top left corner of the screen – it shows where exactly you are in the process as well as lets you jump between different stages of PCB production, should you wish to take a shortcut for whatever reason.
Popovers

There are two links in the top right corner of the screen providing access to popovers accessible from every screen of the application.
Offsets popover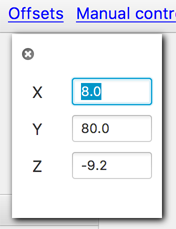 Offsets popover displays and allows to change current offsets.
Manual control popover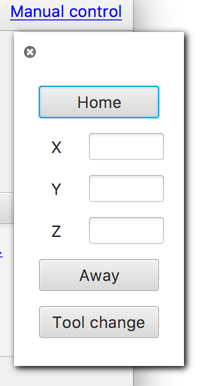 Manual control popover provides allows to move machine's axes manually, as well send machine to one of the two predefined positions:
far way – where the machine moves as close to the rear end as possible, providing access to its bed
tool change – where machine moves close to the front with the Z axis as high up as possible for a tool change
Exact positions of these locations can be specified in settings.