Drilling involves the steps described below.
Placing
PCB

laminate on the machine bed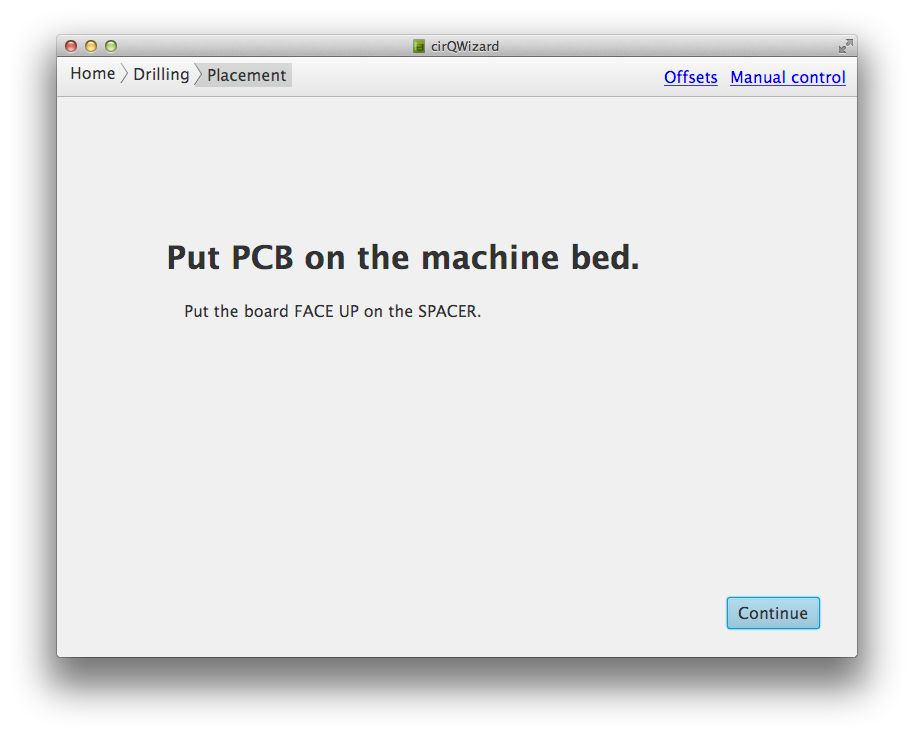 As instructed, put PCB laminate and spacer on the machine bed. You can use Manual control popup to move the machine's head out of the way.
Inserting drill
As instructed by the application, insert the drill of specified diameter in your machine's spindle.
Drilling
The screen shows PCB outline and all the holes matching the diameter of the drill currently installed.
You can select, which holes are going to be drilled. Holes can be selected with mouse. Selected holes can be enabled and disabled with toolbar buttons or with keyboard shortcuts: Ctrl+E (or Cmd-E on Mac OS X) to enable, and Ctrl+D (or Cmd+D) to disable. Shortcut Ctrl+A (Cmd+A) selects all holes.
For your convenience offsets that were entered on previous steps can be checked (and should it be necessary edited) in Offsets popover. The same way all of the relevant settings can be accessed and changed in Settings popover.
If you wish to have a look at G-Code that will be send to the machine, you can press a button with wrench icon in the toolbar.
When you are happy with all of the settings, press Run button. cirQWizard will send generated G-Code to the machine.
When this is don, press Continue button. If there are holes with different diameters on the board, cirQWizard will ask you to insert next drill and will present you a drilling screen for the next drill diameter.